First, Andy Pettitte gave his private testimonies on Monday. Today, it was Roger Clemens' turn. Next, Brian McNamee will take part in a private session...all leading up to the big congressional hearing
Roger Clemens
arrived to give private, sworn testimony Tuesday to congressional lawyers about whether he used performance-enhancing drugs, pausing briefly to look around the House hearing room where he is to testify next week.
Wearing a pinstriped gray suit instead of a pinstriped New York Yankees uniform, the seven-time Cy Young Award winner was accompanied by two attorneys.
Clemens declined to take questions from reporters on his way in, saying only, "Good morning," before heading into the offices of the House Oversight and Government Reform Committee.
Clemens was scheduled to give the deposition to committee lawyers behind closed doors one day after his former Yankees teammate and workout partner Andy Pettitte delivered sworn testimony for about 2½ hours.
Both pitchers' private interviews with staff members from the House Oversight and Government Reform Committee are part of preparation for a Feb. 13 hearing. That public session is expected to focus on allegations made in the Mitchell report by his former trainer, Brian McNamee, that he injected Clemens more than a dozen times with performance-enhancing drugs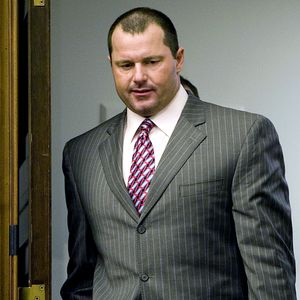 Roger Clemens, followed by one of his attorneys, Lanny Breuer, arrived Tuesday morning to give testimony in front of house committee lawyers.
Clemens, 45, ranks eighth in major league history with 354 career wins. He put off retirement yet again in 2007, returning to the Yankees in June and going 6-6 with a 4.18 ERA.
"Roger is not going to take the Fifth Amendment," one of Clemens' lawyers, Rusty Hardin, said in a statement e-mailed Monday by spokesman Joe Householder. "He is going to answer the committee's questions truthfully under oath."
McNamee is scheduled to appear Thursday. One of his lawyers, Earl Ward, said no decision had been made on whether he would submit to a deposition or transcribed interview. It is a crime to lie to Congress, regardless of whether a person is under oath, so the distinction between the two has more to do with the format of the questioning and the confidentiality of the transcript.