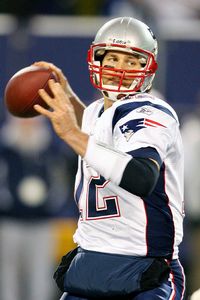 Was their any doubt? Tom Brady rewrote the NFL record book in 2007 and earned all but one MVP vote.
The New England Patriots' record-setting quarterback drew all but one vote Saturday in romping to The Associated Press 2007 NFL MVP award in the same manner his team romped through its schedule, going 16-0. On the way to the first unbeaten regular season since Miami went 14-0 in 1972, Brady put on a performance for the ages.
"I have always been a huge football fan and will always have great respect for the history of this game," Brady said. "I am grateful to all of the voters for any consideration I was given. It is a tremendous honor and I am sure it is one that my family will one day look back on with great pride."
The eight-year veteran who already has won three Super Bowls helped the Patriots tear through the record books by throwing for 50 touchdowns. He beat Peyton Manning's league mark by one, and also threw 23 of those TD passes to Randy Moss, which lifted the receiver past Jerry Rice's record of 22.
New England scored 589 points, another record, as was the Patriots' 75 touchdowns. Brady led the NFL with a 117.2 passer rating -- no, not another record, but close to Manning's 121.1 in 2004. Only one full-time AFC starter, Jacksonville's David Garrard, had fewer than Brady's eight interceptions. And Brady threw 253 more passes than Garrard.
Brady also was tops with a 68.9 completion percentage, and his 4,806 yards were 383 more than runner-up Drew Brees of New Orleans.