Brian McNamee's attorneys presented two color photographs of needles, vials of testosterone and other evidence turned over to the government that they said Thursday will prove the former personal trainer injected the star pitcher with performance enhancers.

This quote comes from Earl Ward, one of McNamee's lawyers
"Roger Clemens has put himself in a position where his legacy as the greatest pitcher in baseball will depend less on his ERA and more on his DNA."
The seven-time Cy Young Award winner's repeated denials of McNamee's allegations in the Mitchell Report about drug use drew Congress' attention. Clemens spoke under oath to the committee Tuesday _ the first time he addressed the allegations under oath, and therefore the first time he put himself at legal risk if he were to make false statements.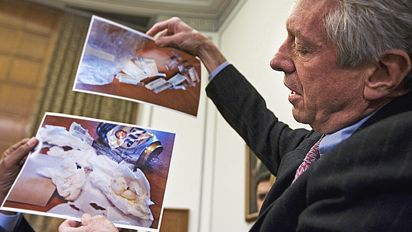 Richard Emery, one of Brian McNamee's attorneys, hold up photos that were submitted as evidence Thursday.
There is a public hearing scheduled for Wednesday, when Clemens, McNamee and other witnesses, including New York Yankees pitcher Andy Pettitte, are to testify.