'08 Hall Of Fame Class
It was the Redskins' day on Saturday as Washington legends Darrell Green and Art Monk headlined the list of 2008's Pro Football Hall of Fame class. Here's a look at the full class.
Player
NFL team(s)
CB Darrell Green
Redskins
WR Art Monk
Redskins, Jets, Eagles
LB Andre Tippett
Patriots
DE Fred Dean
Chargers, 49ers
OT Gary Zimmerman
Vikings, Broncos
CB Emmitt Thomas
Chiefs
It was a Hall of Fame day for the
Washington Redskins
, with Art Monk and
Darrell Green
elected to the shrine Saturday. Former commissioner Paul Tagliabue failed to get in for the second straight year.
"There's going to be a party at Redskin Park soon," Green said while talking by teleconference with Monk.
Also voted in were New England linebacker Andre Tippett, San Diego/San Francisco defensive end Fred Dean, Minnesota/Denver tackle Gary Zimmerman and senior committee choice, Kansas City cornerback Emmitt Thomas.
In his eighth year of eligibility, Monk finally was chosen. He concluded his career after the 1995 season with Philadelphia, but spent 13 years with the Redskins as one of the NFL's premier receivers. Monk held records for most consecutive games with a reception (164) and career catches (820). Both have been surpassed, but Monk didn't play in as wide-open an era on offense as many other receivers. He was one of the most consistent possession and third-down receivers in the league throughout his 14 pro seasons.
Green, one of the NFL's speediest and most skilled cornerbacks for two decades, spent his entire career (1983-2002) with the Redskins. He holds the record for consecutive seasons with an interception (19), and had 54 picks for 621 yards and six TDs. A member of the 1990s All-Decade team, Green made seven Pro Bowls.
"This is incredible. This is so special," Green said when informed of the vote. "This is out of this world. This literally transcends football, everything I have gone through to do what I was able to do. It was more than the ability to run and cover. It just goes so far beyond that."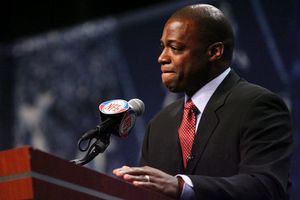 One of the NFL's all-time best defensive backs, the Redskins' Darrell Green was rewarded for a standout NFL career by being named to the 2008 Pro Football Hall of Fame class.
The other player in his first year of eligibility, receiver Cris Carter, was not elected. Carter finished his 15-year career second on the career list in receptions and TD catches.
Inductions will be at the Pro Football Hall of Game in Canton, Ohio on Aug. 2.
"I looked forward to the day we are going to Canton," Green said, breaking up with emotion. "Hopefully, there are several hundred thousand hotels there, and several hundred thousand tickets."
Perhaps the most surprising outcome was Tagliabue again not getting enough support.
Senior committee nominee Marshall Goldberg was not elected, either.