This loss isn't as extreme however. After the toughest season of his Hall of Fame career, Joe Gibbs knew he needed to walk away from his
Washington Redskins
family to be closer to his wife, children and grandchildren.
He retired from football, stepping down as coach and team president of the Redskins on Tuesday. The announcement came three days after a playoff loss ended an inspirational late-season run that followed the death of safety Sean Taylor.
The 67-year-old Gibbs said Redskins owner Dan Snyder tried to persuade him to stay on during a conversation that lasted until about 2:30 a.m. Tuesday.
"My family situation being what it is right now, I told him I couldn't make the kind of commitment I needed to make," Gibbs said during a news conference at the Redskins' practice facility, standing a few feet from the three silver Super Bowl trophies he won during his first tenure with the team.
Speaking about his family, Gibbs added: "I felt like they needed me."
He had one season left on the five-year, $27.5 million deal that lured him out of his first NFL retirement and away from his second career as a NASCAR owner.

Gibbs went 31-36, including 1-2 in the playoffs, in his second stint with the Redskins, always maintaining he intended to fulfill the contract.


Gibbs called this his hardest season, making reference to Taylor's shooting in November, but pointed to his family as the chief reason for his resignation.
Among the candidates to replace him will be two former head coaches who have been members of his staff, Gregg Williams and Al Saunders. Former Pittsburgh coach Bill Cowher (he would be my pick) also could be a candidate. The team will have to interview at least one minority to comply with the NFL's "Rooney Rule" as it seeks the sixth coach since Snyder bought the team in 1999.
Bill Cowher needs to stop analyzing sports with the rest of that gang and get back into coaching like Bill Parcells did (well, Parcells isn't exactly a coach, but you get the idea). He retired after he won the Super Bowl with Pittsburgh for reasons I am unsure of. However, because he's an analyst, he would make a good coach since he seems to know what he's talking about as he breaks apart the games and tries to figure these match ups out every week. Also, he hasn't become a fossil yet; he's still relatively young enough to still be coaching.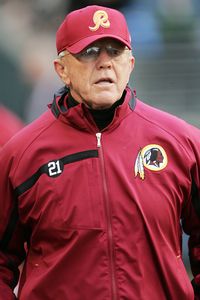 Joe Gibbs won three NFL titles during his first stint with the Redskins. The second time around he took Washington to the playoffs in two of his four seasons.
Hall of Fame coach Joe Gibbs clearly had a better first tenure than second as head of the Washington Redskins. Below is a comparison of both stints in the nation's capital.
| | | | |
| --- | --- | --- | --- |
| | '81-'92 | '04-'07 | Totals |
| W-L | 124-60 | 30-34 | 154-94 |
| NFC East Titles | 6 | 0 | 6 |
| Playoff W-L | 16-5 | 1-2 | 17-7 |
| Super Bowl wins | 3 | 0 | 3 |