According to ESPN:
Madison Square Garden and
New York Knicks
coach Isiah Thomas reached an $11.5 million settlement of the sexual harassment case brought by a former team executive.
The deal came Monday as Anucha Browne Sanders was preparing to return to U.S. District Court in Manhattan, where her description of her ordeal with the Knicks exposed the club's tawdry side, from its dysfunctional clubhouse to the sexual exploits of star Stephon Marbury with an intern.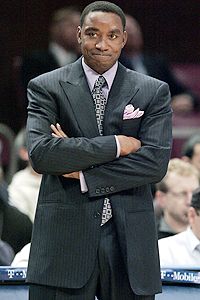 AP Photo/Seth Wenig
Isiah Thomas maintains his innocence, but his employer decided to settle.
A jury awarded her $11.6 million in punitive damages. This deal replaces that.
"I am extremely pleased that we have reached a settlement," Browne Sanders said in a statement. "The jury's verdict in this case sent a powerful and enduring message that harassment and retaliation at Madison Square Garden will not be tolerated. ... It has been a long journey, but I believe that justice has been done."
The case was supposed to resume this week before U.S. District Judge Gerard E. Lynch, who was set to decide how much Browne Sanders was owed in compensatory damages, a payout that usually involves lost wages and future loss of income. The Knicks also faced the possibility they might be ordered to pay what was likely to be millions of dollars in legal fees.
By settling, the Knicks avoided paying her legal fees, while Brown Sanders gets her money faster and avoids the possibility of having her award reduced on appeal.
Although Browne Sanders had demanded the right to resume working for the Knicks, one of her lawyers, Kevin Mintzer, said she will continue working at the University of Buffalo as an associate athletic director and senior woman administrator.
"As I have said before, I am completely innocent," Thomas said. "This decision doesn't change that. However, this is the best course for Madison Square Garden, and I fully support it."
By the way, the Knicks got slammed by Dallas tonight as New Yorkers in Madison Square Garden repeatedly chanted to fire Isiah. He is really not going over well in New York. Also, Oliver Perez, one of many pitchers who helped blow the Mets' enormous lead during the final stretch of the previous baseball season, was booed when his picture appeared on the scoreboard.....New York fans are tough to please.